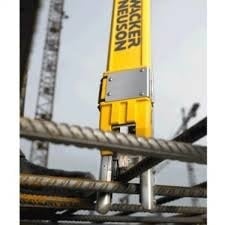 Wacker Neuson Rebar Tier DF16
The purely mechanical unit has no need for a power supply. The mechanically executed knot is always tighter than a standard knot performed by hand with a pair of pliers. Ideal for tying concrete reinforcing steel. This unit is suitable for horizontal (ceilings & slabs) as well as vertical (wall) applications.
Wacker Neuson DF16 Features: One hand operation, The unit can be operated in any position.
It is possible to tie up to 1,000 knots per hour.
Length 25.8" / 34.7", Weight 4.9-lbs. Operating diameter 1.26" (32mm).
Wacker DF16 Presently discontinued for sale in the United States.
Wacker Neuson Wire Ties available for sale on our parts page.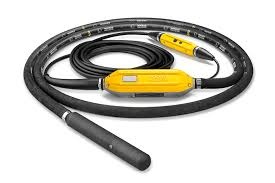 Wacker HIGH FREQUENCY VIBRATORS high frequency motor-in-head internal vibrators with an integrated, compact electronic inverter in the switch housing. Designed for high quality results in foundations, walls, columns, and in-plant production.
FEATURES: Lightweight, compact unit plugs directly into standard 115volt outlet. Soft start eliminates amperage surge at start-up. Built-in motor protection for short circuits, ground fault, high temperature, voltage variations, and phase failures. Induction hardened vibrator housing inside and outside for extended operating life. Three phase induction motor. Oil lubricated high performance roller bearings. Fast vibrator head replacement eliminates special tools. Sealed switch housing.
All units: Cable length 50', Vibrations per minute 12,000 , Input voltage 115v.
Hose lengths vary by model: 5 meters/16.4', 8 meters/26.2', 10 meters/32.8'
Wacker Neuson IRFU30 Motor 4.4amp, Head 1.2" x 13.8", 25.4-lbs. Compaction diameter 15"
5 meter/16.4' hose......$ 1,379.00
Wacker Neuson IRFU38 Motor 7.0amp, Head 1.4" x 13.6", 30.0-lbs. Compaction diameter 19"
5 meter/16.4' hose.......$ 1,449.00
Wacker Neuson IRFU45 Motor 9.6amp, Head 1.8" x 15.0", 32.2-lbs. Compaction diameter 23"
5 meter/16.4' hose......$ 1,469.00
Wacker Neuson IRFU57 Motor 12amp, Head 2.2" x 15.8", 43.7-lbs. Compaction diameter 33"
5 meter/16.4' hose......$ 1,649.00
8 meter/26.2' hose......$ 1,769.00
10 meter/32.8' hose....$ 1,799.00
Wacker Neuson IRFU65 Motor 15amp, Head 2.6" x 19.3", 56.2-lbs. Compaction diameter 39"
5 meter/16.4' hose......$ 1,999.00
8 meter/26.2' hose......$ 2,049.00
Wacker Neuson IRFU60 HR Features a rubber coated head for use with coated rebar.
Motor 14.0amp, Head 2.6" x 16.3", 48.1-lbs. Compaction diameter 33"
5 meter/16.4' hose......$ 1,999.00
8 meter/26.2' hose......$ 1,999.00
10meter/32.8' hose.....$ 2,049.00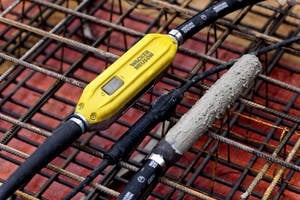 APPLICATION OF THE WACKER NESUON IRFU VIBRATOR
Ideally suited for major construction sites with large surfaces:
The IRFU range can be directly connected to a 1-phase power supply

IRFU Vibrator Specifications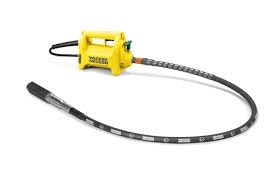 Wacker Neuson Vibrator, Internal Flex-Shaft
M1500 motor 2.0-hp, 12.5amp, 10.9-lbs.
SM3-S shaft 10', H35S head 1.4" x 12.3"
24" compaction diameter.
Total operating weight 25.7-lbs.
Wacker Neuson M1500 package......$ 795.00
M1500 M2500 Specifications